The early bird catches the worm
I'm a big believer in early to bed, early to rise, probably teetering on the boring, but I rarely need an alarm clock. My day usually starts at 6.30am, I try to have at least 30 minutes of ME time before my daughter Autumn wakes up (nope, she was born in January).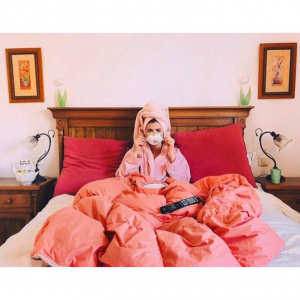 My bed is my happy place 
Tea in bed
I've spent years making hot water with lemon my first drink of the day, good for the skin, good to kick-start the metabolism, but just recently I've been my own rule breaker and returned to a good old fashioned brew. I'm unsure if I  need the caffeine more now that I'm in my forties (early) or my taste buds are changing/dying. Sounds quite depressing either way.
I hop back into bed with my tea and I read, meditate (I really feel the benefit of as little as 5 minutes controlled breathing when I can) or listen to something that I'm into, at the moment it's Oprah's SuperSoul Conversations https://apple.co/2HV7pNC they're really uplifting and help shift any negative thoughts I may be having because let's face it, the pressures of life don't always aid happiness all of the time. I have to admit that I can sometimes feel enormous guilt if I'm not constantly learning, it feels like a waste of life so then I'll check emails & social media platforms first thing – I'm often composing my social media posts in my nightie!
Emails start rolling in from 7.30am – usually from all the early birds in the office, one customer emailed letting me know that "we've run out of loo roll". It doesn't happen very often but it 'has' happened – I wouldn't have liked to have been him would you?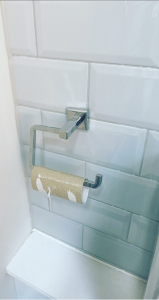 An empty loo roll at WorkSmart but very nice tiles
Can you get your shoes on please?!
Then it's the school run from Mobberley to Bowdon and like so many mums it doesn't matter how early you get up, it always turns into absolute carnage at some point. Argh. Usually its the last 10 minutes when we need to leave, something has been forgotten, or my daughter is trying to smuggle in contraband – the worst being slime, or clip on earrings….the icing on the cake is when we're late & then get stuck behind a tractor.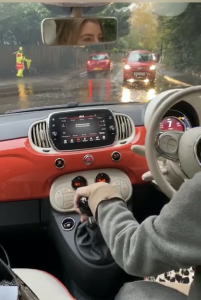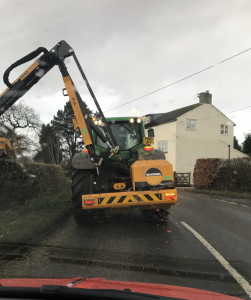 Driving through puddles in Bowdon & stuck behind a tractor in Mobberley – all in a morning.
Commuting hell/heaven
Before launching WorkSmart I'd spent over a decade commuting into the City Centre to our offices on King Street. Nowadays the 'commute' doesn't even register as it's 10 minutes from school to WorkSmart in Altrincham.  One of my customers who commutes from Hale to Altrincham once pointed out that he no longer has chance to listen to a full Coldplay song, the commute time is too short.
When I arrive at http://www.worksmarthub.co.uk  my first job is popping the advertising board outside, rain or shine & it really isn't the lightest thing in the world. If I'm lucky one of my lovely tenants will do it for me #teamwork
Then it's general 'house-keeping'. A huge part of my business is wowing people with appearance and first impressions so keeping the hub looking as clean and tidy as possible is a big part of what I have to do. My customers often see me with the henry hoover out as I'm sure many of you now know if you read my earlier blog 'are you cut out to be an entrepreneur'.  http://bit.ly/2teX23i
I'm obsessed with candles & making sure the hub smells nice. Last week I knocked over a new reed diffuser and the oil went all over the wooden floor (thank god!) it's still lingering, in which the ladies are delighted "oh it smells like holidays Carla" the men not so much "Carla I think we could sue you for respiratory damages".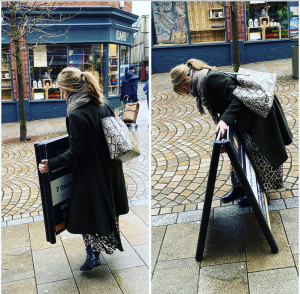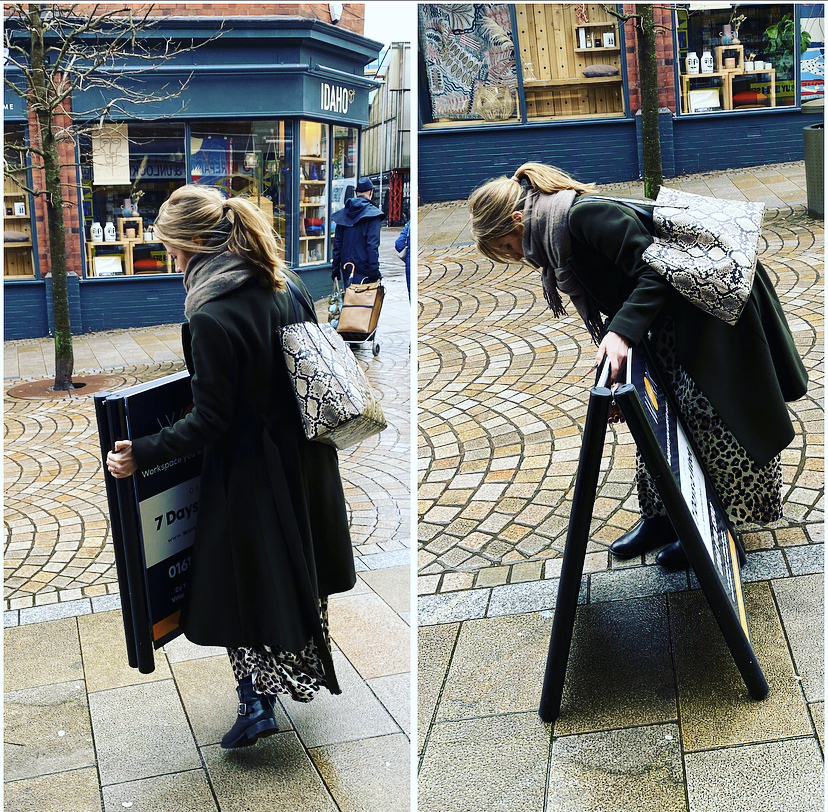 I do not get enjoyment from doing this twice daily rain or shine
You wouldn't believe that I'm the owner of a business that provides people with desks, because there was a time when I didn't have one! Note to self 'don't sell all your desks, leaving yourself desk-less.
You also won't believe that my mum still asks me "What time are you opening the shop in the morning Carla?" SHOP! I've given up trying to correct her.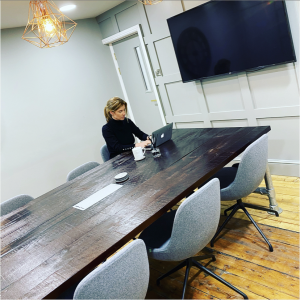 Working alone in WorkSmart's Boardroom whenever I could
Nowadays however, I feel very lucky that I have a desk in my tenant's office.  It's there that I get on with working through an ever changing to-do list with thankfully not too much fire fighting. I know I perform better when I'm working within a team of people than alone which is the case for many of us and why coworking exists, I also like to TALK so don't start a conversation with me if you're busy.
It's a good 6 hours before pick up to get working, try and squeeze in a run or visit to The Mere where I'm a member……..and repeat.
Carla Wells – WorkSmart Hub Ltd  http://www.worksmarthub.co.uk